August 4 2014
2
04
/

08
/

August
/

2014
13:41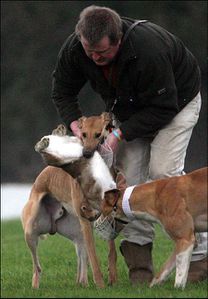 It's that time of year again, when Ireland's Minister for Arts and Heritage must decide whether to license the capture of thousands of hares for use as live bait in coursing. If the Minister grants the license, the gentlest creatures of our verdant Irish countryside will have to face almost five months of abject terror and suffering, starting in late September. They will be snatched their natural habitat by gangs of men and boys using nets, manhandled and thrown into small crates, conveyed to places of detention, and after weeks of captivity they will be forced to "perform."
None of this activity serves any scientific or pest control purpose. Nor are the animals captured for food. The sole purposes of coursing are gambling and entertainment. Each greyhound has his or her official name, called out proudly over the public address system. The hares have no names. They are mere pawns in a deadly and one-sided game that bears comparison with Russian roulette: Some hares make it through the escape hatch...but others die as a direct result of being coursed, either from being struck forcibly by the larger and faster dogs, or from stress-related ailments arising from their unnatural captivity or the chase itself.
Reports from National Parks and Wildlife Service (NPWS) rangers that attended a number of coursing events last season have become available in the past week under FOI. They show that hares continue to suffer in coursing despite muzzling of greyhounds. The reports refer to hares being struck, mauled, and horribly injured at coursing events held in different counties. Interesting, these latest NPWS reports quote coursing officials referring to hares that have been savaged by greyhounds as "requiring assistance". A sickening euphemism, but in keeping with their bizarre, repeated claim that hares enjoy being coursed, and that coursing benefits the hare population.
As if this noble creature that survived the last Ice Age required the "assistance" of people who set it up to be hounded, terrorized, and battered by dogs.
The NPWS reports are backed up by video recordings made by animal welfare volunteers at other coursing fixtures that show hares being mauled or tossed into the air by salivating dogs. The damning footage can be viewed on Banbloodsports.com.
There is no excuse for the use of live lures in coursing. In Australia and Europe, hares have been replaced by mechanical lures and this has in no way diminished the enjoyment of the fans: Recently the European Coursing Championships were held in Italy, drawing thousands of spectators from across the continent and beyond…and not a single hare was subjected to the horrors that Irish coursing clubs inflict on these animals.
Minister Humphreys could make history by refusing the hare capture license. This is 2014, not the Dark Ages. Live hare coursing is way past its sell-by date.
A video clip from a hare coursing event in Co. Limerick:
http://www.youtube.com/playlist?list=PL741E0B6DA3CBB057
Further Details of the NPWS reports referred to:
http://www.scribd.com/doc/234875956/Coursing-Cruelty-Catalogue-2014